Welcome
The Geneseo Public Library is your destination for information!
The mission of the Geneseo Public Library District is to provide materials and services to assist library district residents of all ages to obtain information for their professional, personal, educational, recreational, cultural and reference needs. The library provides timely access to a variety of materials relevant to and of general interest to the community it serves. We assist students of all ages in meeting educational objectives, emphasizing the pursuit of lifelong learning, promoting the enjoyment of reading, and providing outreach services.
---
Hours of the Geneseo Public Library District
Monday-Thursday 9:00am - 8:00pm
Friday 9:00am - 6:00pm
Saturday 9:00am - 5:00pm
Sunday - Closed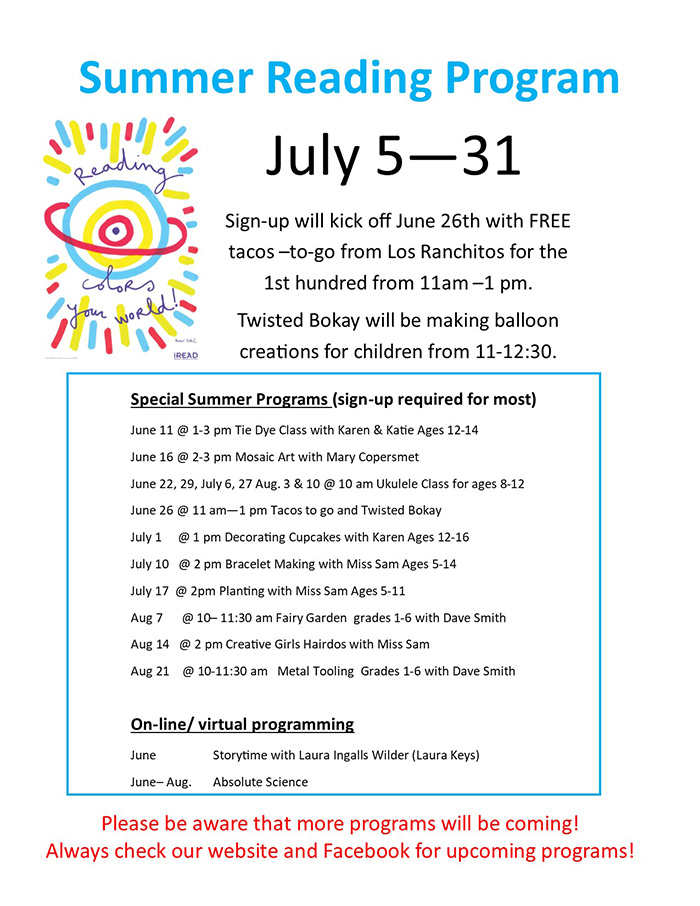 Free Children's Orthopedic Clinic
View More
Free for low-income families!
Tails & Tales
View More
2021 Summer Reading Resource Center
U OF I Extension: New 4-H STEAM Videos for Kids
View More
The Emergency Broadband Benefit
View More
Get connected at home with a federal discount on your internet bill.
Free Admission in July at The Figge Art Museum
View More
Thanks to the generous support of Cal and Jill Werner, the Figge Art Museum will offer FREE admission during the month of July.
Stream Sentimential Reflections Videos
View More
Redeem code to watch!
Check out our Summer Reading Programs
View More
Upcoming Events at the Library
View More
Register Now for the following classes: Tie Dye Class, Mosaic Art, Employment after Incarceration, and Summer Reading Information
BiblioBoard Library of Illinois
View More
BiblioBoard Library of Illinois is a new, free site from RAILS! On BiblioBoard, you'll find hundreds of digital Anthologies featuring books, images, documents, videos, free MARC records, and more! Visit
https://illinois.biblioboard.com/home
Ace Your Chemistry Classes
View More
Chemistry Study Guides for Geneseo Students: Get Access to General Chemistry & Organic Chemistry Study Guides, Exercises and Practice Tests at Chemistry Coach
Smith Studio: Art Classes at Geneseo Public Library
View More
Fall 2021 - Student classes are on Saturday 10-11:30 am (starting Aug. 7th)
Classes are a one-day event and designed to challenge children 1st-6th grade levels
Make a flyer or poster!
View More
www.canva.com is a free and easy site to use!
Geneseo Public Library Adult Calendar
Geneseo Public Library Children's Calendar